"Inspiring music

goes
straight to the soul...

"

It's common belief that images have the most effect on people, but it's in combination with music and sound when the real magic happens. Images easily capture our attention while sound and music add depth and often meaning to them. That's precisely why I love my job so much!
So this is what I do:
---
Composing
---
Composing is the process of creating or writing a new song or piece of music. But to me it is about telling a story that will move, touch or even frighten people when they hear the music. It can be a piano theme for a movie, a soundscape for a horror scene or a complete orchestra playing a beautiful motive. Either way its all about the love for music.
Sound Design
---
Sound design is a very broad term and is used in a variety of disciplines. It is the art and practice of creating sound tracks for a variety of needs. It involves specifying, acquiring or creating auditory elements using audio production techniques and tools. Being a composer I am using sound design mainly for creating effects in any musical piece when needed, soundscapes and other audio possibilities for film and TV.
Production
---
As a graduated Sound engineer and musician I am recording and producing music. This includes mixing and mastering of songs from singer songwriters and bands or solo musicians. Sometimes I am co-writing a song from a singer songwriter after which we determine the sound of the song or album and other times I will be recording and mixing an entire album performed by a band.
TotallyTuned Masterclass Certificate
---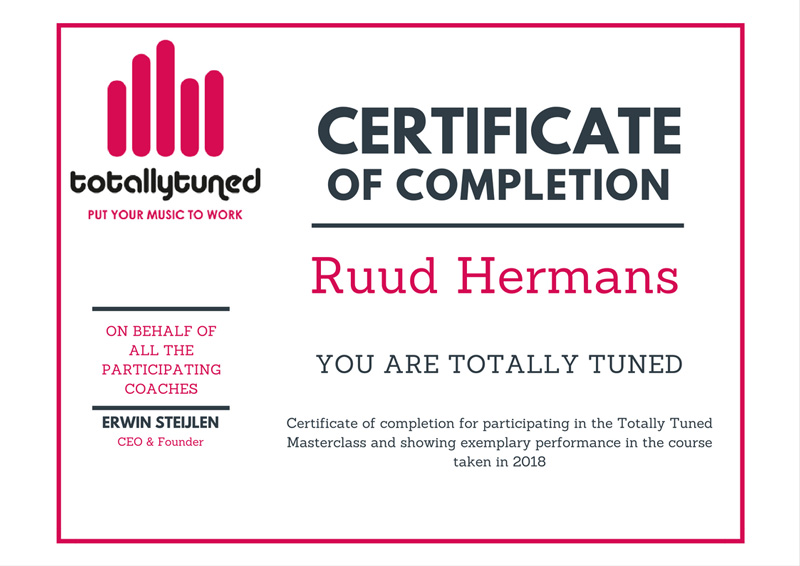 I have joined the TotallyTuned Masterclass, which is a 3 month course with weekly assignments and opportunities to make music for very diverse companies, events and games. These assignments gave me the opportunity to be assessed and advised by the best coaches in the field.
Via an online platform the coaches and students are able to communicate quickly on the music as well as on how to approach an assignment for real customers in the commercial world. I was very pleased to win the opportunity for a company called Innozaam. They liked the music track I had send in very much and are now using it for commercial purposes.
If you want to learn more about TotallyTuned, check their website:
CHECK IT OUT